The named characters to die off are, in order: a Japanese security commander, an Indian CEO, a snooty British nanny. Oh, sorry, there was also a comically fat security guard who got eaten. Meanwhile, Vincent D'Onofrio's operatically terrible villain is the only white guy in Costa Rica to have actually picked up a strong tan, just to make sure you don't feel as bad for him when he dies horribly (offscreen, in case he needs to come back for the sequel), while his mwahaha-ing Chinese accomplice escapes with the seeds of the next disaster. Over in the control room, the one tech who volunteers to stay behind gets hilariously and humiliatingly rejected by a girl, because he is a NERD and how DARE he try to play the hero, he is nowhere near military-trained enough to be a protagonist we actually care about!
Bryce Dallas Howard plays a female executive who spends the first act being hysterical and inept in the face of crisis, until she goes back to the man she once dumped - Chris Pratt as Bronaeris Stormborn - whose gruff manliness inspires her to get her shit together and modify her outfit for more cleavage, signalling readiness to take on the hazards of the Central American jungle without ever taking off her stilettos. Of course, she only starts being a worthwhile character when she forgets everything she'd learned in her career and is overcome with nice, Christian, motherly concern for her nephews, whom she previously abandoned, the evil witch!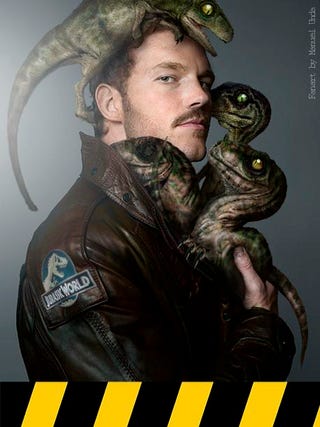 The Bro of Dragons
The nephews in question are a precocious boy genius already coming into his own as the superhero Background Exposition Man, and his big brother, the sullen kid whose main purpose is to give the camera an excuse to pan over to the hot teenage girls he's constantly ogling. Never mind - they will be fine, because at a key moment we will be told that they had just happened to restore their grandfather's old muscle car together, so they know exactly how to quickly repair a Jeep that's been rotting in a Central American jungle for twenty years.
The Big Bad Monster is always exactly as capable and powerful as the plot requires, which is explained away with "well, you didn't know this, but it also has genes from THIS animal!" - including being impervious to tranquilizer darts, bullets, and anti-tank rockets! Of course, he is also conveniently vulnerable to the teeth of another dinosaur once it's time for the money shot. Oh, and a velociraptor gets thrown into a souvenier shop window and EXPLODES IN A BALL OF FLAMES.